Dot Kettle and Georgia Richards from Pure Peony are strong advocates for Rural Women and promote the Rural Women Awards as a great way for the contribution of women on farms to be recognised.
Back in 2008 these ambitious AgWomen made a big decision to move from their city jobs in Wellington to a 42ha property in the Dove Valley in the Tasman region. They wanted to raise their three young sons in an idyllic rural community and with no real farming knowledge or experience they imagined flowers would be easier than livestock.
Initially they purchased and planted 8,000 peony tubers with an additional 6,000 tubers planted the following year. By 2011 when the tubers were first mature they began selling the cut flowers for the domestic and export market. They admit to start with they were total novices with no horticultural experience and tapped into the knowledge of members of the Peony Society. Dot is now on the executive of the NZ Peony Society, supporting and promoting growers and research.
Dot & Georgia say it was by chance they discovered the roots healing powers. While researching how to grow the best quality tubers, they kept coming across scientific studies that backed up the traditional Chinese use of peony root.
The anti-inflammatory, anti-bacterial, and skin rejuvenating properties struck a chord with them personally as Mums who had spent many years trying to relieve their sons inflamed itchy skin caused by allergies and eczema.

As anyone who has been there knows, the distress, sleepless nights, and itching made them desperate.

So they decided to see if peony root could help their children's eczema and with success on them and then others locally, in 2013 and 2014 the two woman worked with a Nelson soap maker and natural products manufacturer to produce products on a commercial scale.
Pure Peony – by Dove River Peonies started as growing beautiful peony flowers for export and has now become a natural skin repair business, providing relief for thousands of people who suffer from itchy, inflamed, skin. Dot & Georgia use their organic peony root to tackle a problem they say causes misery to some of our most vulnerable – the young, elderly and the sick.

"New Zealand has one of the highest prevalence rates of allergic disease in the developed world."

The 100% natural Pure Peony sensitive skin range of cremes, soap and shampoo uses the scientifically proven extract from peony root to soothe and help heal skin – fast.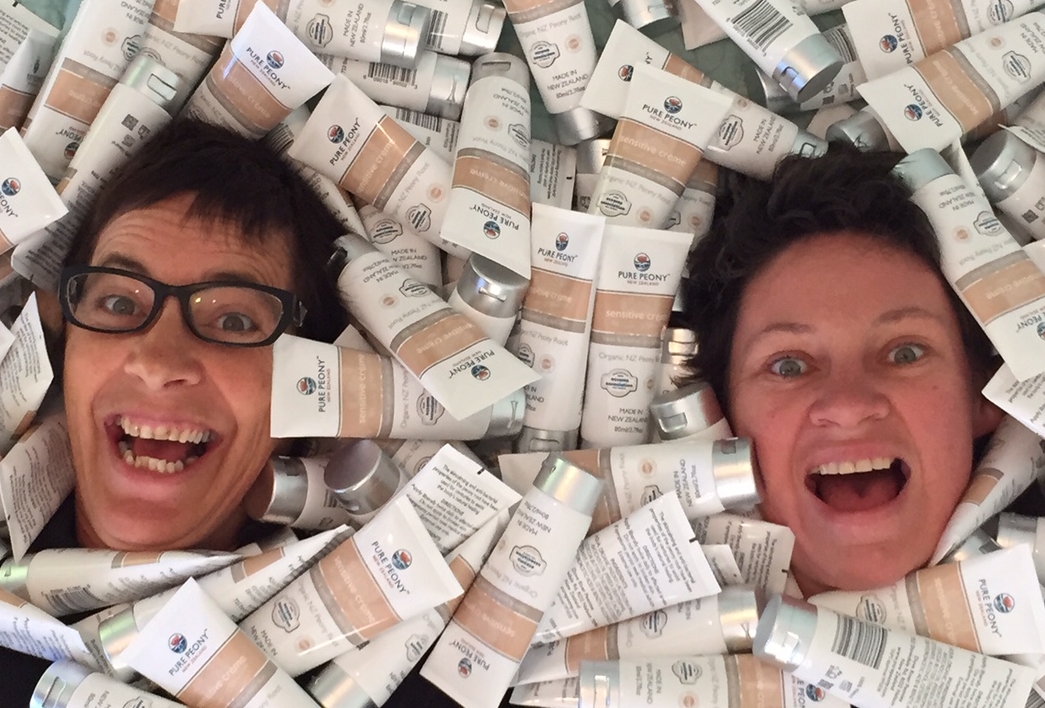 Just five natural ingredients go into the Pure Peony sensitive crème, these being water, organic peony root extract, avocado oil, cocoa butter and natural preservative GeoGuard221. The independent Cawthron Institute tests both their root for the active ingredient and their crème to ensure quality and safety.
Today the crèmes, soap and shampoo bars are used as an effective alternative to prolonged steroid use and provides relief to thousands of people suffering from dry itchy skin caused by eczema, psoriasis, rosacea and cancer treatments. It stops the itch, reduces the inflammation and helps the skin heal.
Pure Peony products are available throughout New Zealand and Dot & Georgia provide free overnight shipping within New Zealand from their online store at purepeony.com
They say ..."We're passionate about the difference our products are making and excited about the future of our rural business:"

They both also support local charities and fundraising within their rural community and surrounding districts.
Dot & Georgia many thanks for sharing your journey and wonderful business with us all and all the best.